Current News
Ladies Christmas Cracker
Ladies Christmas Cracker evening 13 December 2013 commencing 7pm to be held at: Sea Salt, Beckenham Tickets £ 15 includes gourmet buffet - pay at bar. Quiz, raffle, beauty treatments and lots of fun. All proceeds to Last Chance. Contact us for more details
13 November 2013

Cut Above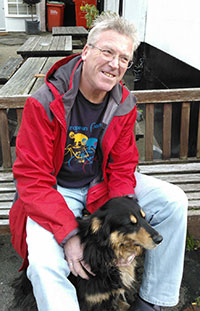 Tom adopted the gorgeous Charlie from us 4 years ago. He is now growing his hair until Christmas Day then having it all cut off all in aid of Last Chance. The hair cut will take place at the Bricklayers Arms Pub -Beckenham, Christmas Day and if any one wishes to sponser him let him know, all donations and support very much appreciated - email matttinker9@msn.com Thank you
29 October 2013

2013 Raffle Winners
Congratulations to our Raffle winners and thank you to everyone who supported us. If you didn't win this time I hope you are lucky next time. 1st L Bryant, Newchurchgate 2nd & 3rd amazingly! Mrs B Dorman, Bexhill
16 October 2013

Fund Raisers coming up
Two events raising money for Last Chance both are at
St Francis Church Ravenswood Avenue West Wickham
5 October Combined Animal Charities Sale Time 2pm - 4pm
and
9 November PDSA fete 2pm - 4pm
Both have tombola, jewellery, refreshments, raffle bric a brac etc. Please come along and join in the fun.
Many thanks
16 September 2013

Christmas Craft & Gift Sale in aid of Last Chance
Biddenden Village New Hall
Saturday 30th November 2013
09:30 am – 12:30pm
Free Entry, Donations Welcome
A variety of stalls selling great Christmas food and gifts for the whole family.
Homemade refreshments and bacon sandwiches
Contact:- Wendy Paul on 01580 291627
Click here for the flyer for this event.
15 September 2013

Christmas Craft & Gift Sale in aid of Last Chance
Please support our Christmas Fayre at St Wilfred's Church (Horley Row, Horley, Surrey, RH6 8DF) on Saturday 30th November, 12-2.30pm. Lots of interesting items for sale including Jewellery, cakes and other stalls and games. Something for everyone.
15 September 2013

Auction Results
Thank you to everyone who supported our Auction which was held on Sunday 15th Sept. We are delighted to report that after expenses Last Chance made a profit of £3001.00. Special thanks to all our helpers and all those who generously donated items.
10 September 2013

Girls Night Out - 16th August '13
Here is a great way to help raise money for the animals of Last Chance. A Girls night out at Seasalt, Southend Road, Beckenham, Kent 7.30 pm - onwards (opposite Beckenham Junction Train Station) Tickets £ 15.00 includes food Parking to rear of restaurant. Raffle, quiz and mini auction. Also trying to get some beauty therapists to do treatments . A few items of jewellery and bits for sale. Come along and have a great time. For more details and tickets email: roseblenkinsopp@yahoo.co.uk
20 August 2013 More...

Dave's Walk
Update
The walk has been walked, vino quaffed, tapas munched, beer sipped and dinner nibbled. 140 miles, 228 kilometres, 7 days, total walking time 44 ½ hours, longest day 7 h 40 m, 24 ¼ miles, hottest day 95F 35C, highest hill up 750 feet, down 1,000 feet, biggest day total 2,040 feet. It was a far greater challenge than last year and another incredible experience and that we will never forget.
Many thanks indeed to everyone who has kindly donated £392 for Last Chance Animal Rescue Centre.
15 August 2013

Events coming up in 2013
We are holding our Charity Auction Sun. 15th September at Last Chance, Edenbridge. We will be having side stalls, raffle, wine tombola, cake stall, pet portrait, barrow of booze etc.. Any donated items would be very gratefully received. Thank you.
30 April 2013 More...

What alot of Sausages!!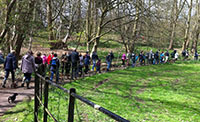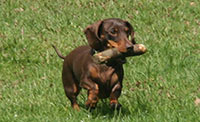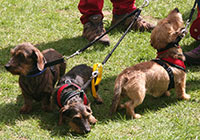 Thank you everyone who joined us on the brillaint Dachshund Walk at Painshill yesterday. Your kindness has raised almost £3,000. That amount of money is amazing and will go towards the building of our new second Centre which is currently underway at New Romney in Kent. £3,000 will fit out a kennel with underfloor heating, air conditioning & comfy beds, etc. etc. Each individual kennel is large enough to house two rescued dogs. We often find new, loving homes for our dogs within 7 days which could mean that your generousity will help 100 dogs each year, (all of which have previously been abandoned), warm, snug and cosy. Thank you very much from all those dogs. A big thanks to Anna Richardson who organised the event so brilliantly, even arranging the weather for us! You are an angel. Also thanks to Jane - Doggy Bag Biscuits & Jo & Mark of Husse who so kindly donated lots of items for the walk and prizes. Love from us all at Last Chance xx
21 April 2013
Summer Newsletter 2013
Our Summer newsletter is due out very shortly. If you would like to receive a copy and are not already on our mailing list please email us your postal address and we will ensure you get a copy.
15 April 2013
Congratulations & Special Thanks
Many thanks Wayne and Lisa Taylor for the wonderful cheque for £672 that was donated following your wedding. - from all of us at Last Chance
2 April 2013
Recycle and help Last Chance
We are now collecting old mobile phones/inkjet cartridges to raise funds. Please bring or send to Last Chance Hartfield Road Edenbridge Kent TN8 5NH or drop off at our charity shop. Any mobile accepted & Dell, Canon, Lexmark,Hewlett-Packard, if you would like a collection box for your office/school etc please contact us. We also now collect used british postage stamps. Just cut them off your post leaving approx 1/4 inch border and send/bring them to either of the above addresses
26 March 2013
Visit our ebay shop
Please click 'Help us' on menu bar, scroll down to 'buy on ebay' and click link to view the items currently being sold on ebay to raise money for Last Chance.
18 February 2013
Beware of Dognappers!
You may have heard that dog theft and dognapping has dramatically increased recently. It is a dreadful crime that leaves loving owners desperate, not knowing the fate of their beloved pet. Please take extra care to keep your dogs safe, don't leave them unattended at any time and make sure your gardens are secure.
11 February 2013
More...
Our plans for the future
We have outlined below some of the projects we are hoping to commence in the future. Any help you feel able to give to accelerate any of these objectives would be most welcome and would enrich the lives of the many abused and homeless animals that come through our doors.
24 September 2012
More...
Shop on line and raise money for LC
Please support LAST CHANCE ANIMAL RESCUE HOME every time you shop online at no cost to you.
With Give as you Live, thousands of brands including Amazon, Play.com, John Lewis and Expedia have signed up to donate a percentage of every purchase you make online to us. All at no cost to you and at no cost to us. The average shopper will raise £2.10 per month through what they already buy online.
Simply visit http://www.giveasyoulive.com/join/last-chance-animal-rescue-home/205080/136280 and discover Give as you Live today.
In addition to the £2.10 raised per month, Give as you Live will donate an additional £5 to us once you spend £10 or more through Give as you Live.
Please try Give as you Live today: http://www.giveasyoulive.com/join/last-chance-animal-rescue-home/205080/136280 and pass this message on!
Thank you,
Denise
24 April 2012
Foster Homes Desperately Needed
PLEASE CAN YOU PROVIDE A TEMPORARY HOME FOR CAT OR DOG? WE WILL GIVE ALL THE NECESSARY SUPPORT NEEDED. WE WILL PROVIDE FOOD ANY MEDICATION AND ADVICE, YOU WILL PROVIDE A SAFE HAVEN AND LOTS OF LOVE AND CUDDLES. PLEASE CONSIDER HELPING IF YOU ARE HOME MOST OF THE DAY, IT IS A WONDERFUL, KIND, REWARDING AND EDUCATIONAL EXPERIENCE.
9 February 2012