Current News
Hope
Friday 19th May, a gentleman arrived at our Edenbridge Centre with a female Staffie who he had found amongst discarded carboard boxes in an alleyway adjoining a take away in Croydon. He called to the little dog which was curled up in a ball and miraculously she lifted her head and staggered toward him, too weak to walk properly. This poor little soul had been so badly neglected and starved she was near to death. Her coat was non-existent due to dreadful mange, malnutrition and flea infestation, her eyes cloudy and dull and every bone in her sore body was painfully visible.
Last Chance staff had never seen such a shocking case of cruelty, starvation and neglect. She was immediately taken to our emergency Vet who, along with the vet nurse, was reduced to tears at the state of this desperate little dog clinging to life. The little dog who staff have named Hope was immediately started on medication and pain relief. Tests were carried out and a plan was drawn up to help save this precious soul.
It will take many months to try to restore her to health and as I write she is not out of the woods by any means but we all are trying our hardest to give her every possible chance. She is now safe in our care, being kept warm, enjoying cosy duvets, on a strict feeding regime, being bathed to help her sores, being given the gentlest of exercise to help rebuild her wasted muscles, receiving medication she so badly needs to overcome her health issues and not least of all is being loved by everyone who is helping her.
Who could have caused so much suffering to this wee girl? What a sad world we live in. If you have any information about this terrible case or that would prevent a similar act of cruelty occurring please do everything you can, report it please.
If you could spare a few pounds to help towards Hope"s care or other dogs and cats just like her that we rescue, Last Chance would be very grateful.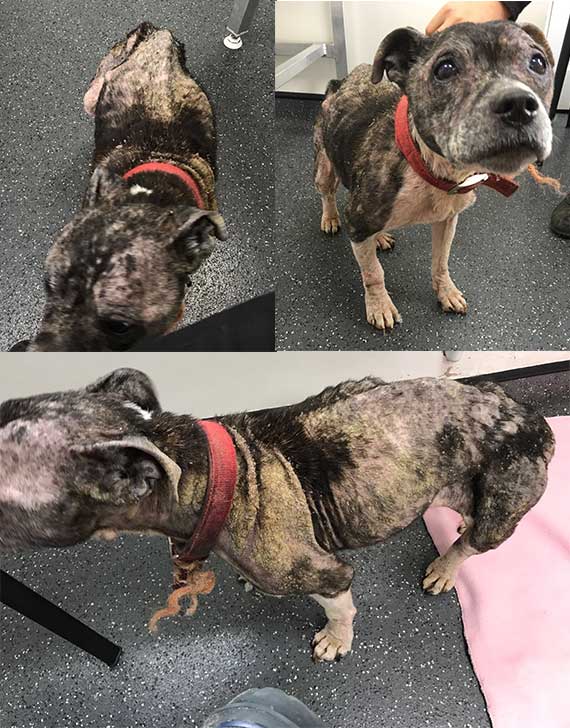 22 June 2017

Part time Veterinary Nurse wanted
Last Chance, New Romney is seeking a qualified Veterinary Nurse to assist our vet on a part time basis, this will probably only be one day per week. Salary is negotiable. Please email us using the contact form or Tel. 01797 367830
16 June 2017

Thanks for your support
Thank you everyone who supports us by shopping online using Give as you live (this can be found by clicking on 'help us" and going to 'give as you live")
Last Chance has just hit another target of £100! Taking our total to over £900 raised so far! Every penny raised goes directly to helping the dogs and cats, rabbits, Guinea Pigs, puppies & kittens we rescue and rehabilitate.
So thanks everyone, your support is appreciated.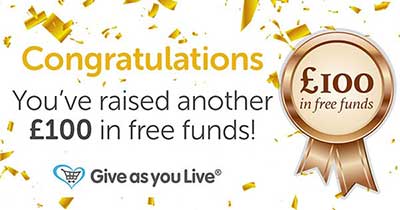 6 June 2017

Fosterers urgently needed
We are desperately seeking fosterers for some of our cats and dogs. We urgently need fosterers with no other pets or who can keep a dog/cat separate from their own dog/cat. The kind of cases we would like to place in foster homes are, post operative who need a quiet environment, elderly partially sighted/deaf animals, pregnant or nursing mothers, animals needing extra socialising etc. The foster will be short term normally. Full support, veterinary care will be given and all food/beds etc. provided. Please use the contact form to contact us or call our Centres 01732 865530 01797 366620 Thank you
4 June 2017

Ebay bargains
We have lots of brilliant items for sale at our ebay shop with more added all the time. Please take a look, grab a bargain and help raise funds for Last Chance. Click here for our eBay page. Happy shopping!
23 May 2017

Amazon Wish List
Last Chance now has an Amazon Wish List showing lots of items the Centres would be very grateful to receive. To visit it please click on 'Help Us' (main menu above) 'Amazon Wish List' Thank you for your support
29 April 2017

Update on Staffie
We are delighted to report Evie, the Staffie below has made a full recovery following her surgery for stab wounds. We have found her a new loving home where she will be safe and very much loved.
28 April 2017

Staffie Stabbed and left to die saved by Last Chance
Staffie- stabbed and left to die, Gillingham. Saturday 8th April Last Chance Animal Rescue Kent was contacted by a Vets in Gillingham. A seriously injured Staffordshire Bull Terrier had been brought in with stab wounds to her abdomen and without emergency surgery was likely to die. The vets were trying to find an Animal Charity to pay for the treatment as no owner could be located. Luckily for the poor dog Last Chance was one of those contacted and of course we didn"t hesitate to help this dog in her hour of need, despite the initial minimum costs of over £2,500, which is a huge amount to a small charity. Two emergency operations were performed on the three stab wounds, the latter at 11pm that night, to try to save the dog. The major concern was the fact the deepest wound was to the stomach which caused a large loss of blood and infection was a major concern. The last week has been crucial for her recovery but our dedicated team of staff have given her all the care and love she needs to help her pull through this senseless attack. Last Chance has done all we can to help save this precious life, we truly hope it will be enough. If anyone has details of the attack please pass them to the police, Gillingham.
We will provide updates on the dog's progress. Please all say a little prayer for her.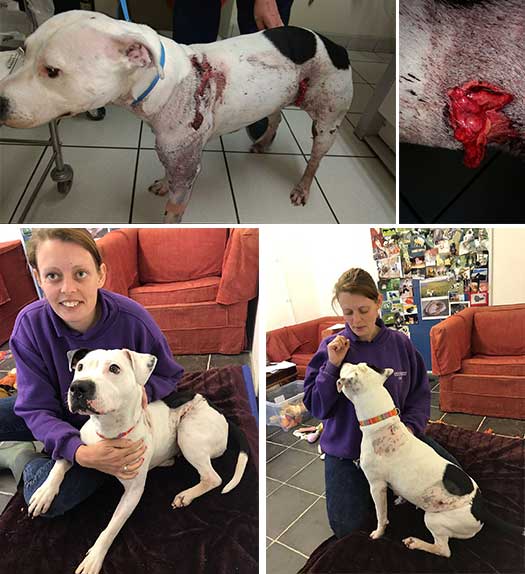 18 April 2017

Newsletter 2017
Our 2017 newsletter is out now! If you are not already on our mailing list and would like a copy please email us your Postal Address
11 April 2017

Lilly
We were urgently trying to find a home for Lilly an elderly, disabled German Shepherd that we have rescued. We dearly wanted to get her into a home as soon as possible, enjoying some home comforts for however long she has left. ...Well the great news is a fosterer came forward within 2 days of me posting the original plea and Lilly will be off to her new home next week! Even better news the fosterer has confirmed that Lilly will be staying in her new home for the rest of her days! We love happy endings!!
If you feel you could become a fosterer and help needy dogs or cats please contact us 01732 865530 or 01797 366620 or by using the contact us button on the menu bar. Thank you
20 March 2017

Urgent foster home needed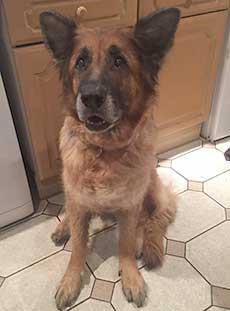 Have you room in your home and your heart for this old lady? She came into us in very bad condition and we were able to place her into one of our great foster homes but we now need to urgently find another foster home for poor Lilly, as the fosterer she is currently being looked after by is going away for 3 months in April! She has some health probs and probably doesn't have long left ☹️ poor girl. Lilly likes short walks and mooching around the garden. She has to wear boots on her back feet when out as she drags her legs and scrapes her toes. Lilly is house trained and can be left up to 4 hours, she is also fine with the fosterers grandchildren, lovely dog. Full support will be given by LC. Please contact us 01732 865530 10am-3pm or use the contact button on the menu bar to email us. Thank you
18 March 2017
Foster home Found!! and more great news...
We were urgently trying to find a home for Mocha an elderly, diabetic, partially blind Shihzu X that we have rescued. Our vet was trying to stabilise this little dog but we dearly wanted to get him into a home as soon as possible, enjoying some home comforts for however long he has left. He requires insulin injections twice a day and obviously we will provide all medication and full back up to anyone who has room in their heart and their home for this poor little soul..... Well the great news is a fosterer came forward within 1 hour of me posting the original plea last week and Mocha has been enjoying home comforts now for over a week! Even better news the fosterer has confirmed that Mocha will be staying in his new home for the rest of his days! A fantastic result for this sweet little dog and isn't nice to know there are such kind people in the world?
13 March 2017
Help Last Chance raise £1000 with EasyFundRaising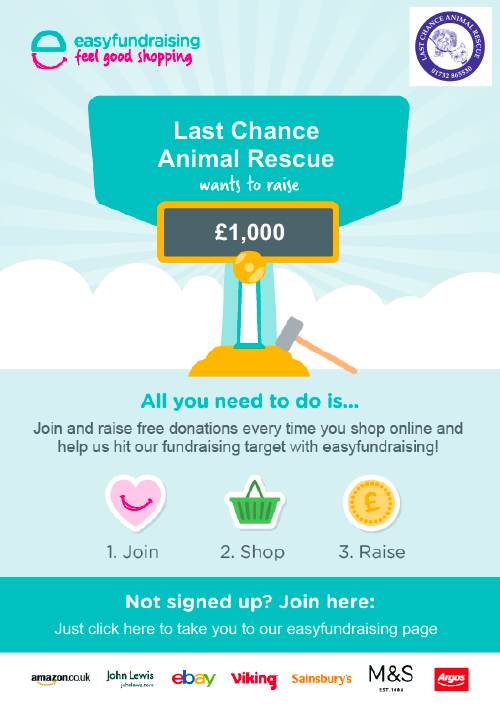 Click
to find out more.
5 January 2017
Happy New Year Everyone
We wish all our supporters a very happy and peaceful New Year. Please give all those lovely dogs and cats you have adopted from us a big hug from everyone at Last Chance, and if you haven't already found a new best friend from us, or could fit in another, we always have great dogs and cats looking for loving homes. It may be that you are not in a position to offer a home right now but would like to help rescued animals. Simply click on the donate button and give just as much as you can spare to spread a little cheer. Thank you for caring about less fortunate animals, and have a 2017. The Last Chance Team x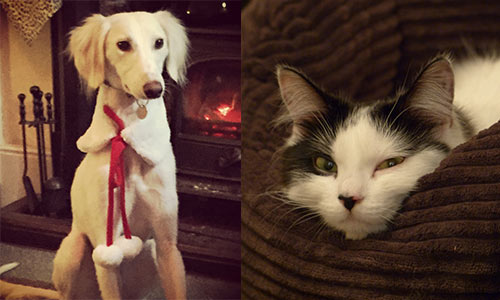 15 December 2016
Charity Shop
Happy Christmas to all our customers, past, present & future. Please note that the shop will be closed on Tuesday 20th Dec. and reopening Thursday 29th Dec. when we will be having a half price sale for 3 days, so come a bag a bargain. Also as from 2017 our closing day will no longer be Wednesday but will change to Monday.
13 December 2016
Boxing Day Dip!
Click here to donate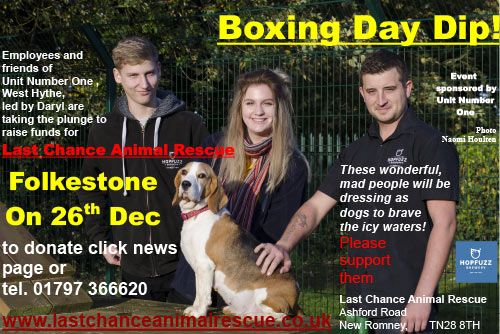 12 December 2016
Doggy Bash, Tunbridge Wells
Please come along and join in the fun on Christmas Eve in Tunbridge Wells and help raise funds for our dogs and cats at Last Chance Animal Rescue who won"t have a home to call their own this Christmas, (but are still hoping to get some day soon). Please contact Carl for more details.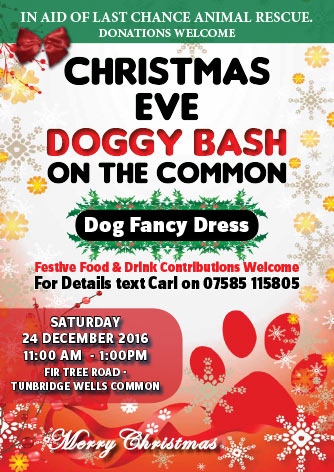 5 December 2016
Congratulations and Thanks!
Our congratulations and thanks go to Paul and the lovely Sonny who both completed the marathon and raised a fabulous £732.50 for Last Chance. We are extremely grateful and hope you both enjoy a nice rest. I understand from Paul he needs much more than Sonny who was ready for his walks the next morning!!
31 October 2016
Sonny's Beachhead Marathon
Sonny is a Last Chance dog and is running the Beachyhead marathon with his navigator Paul. Sonny says:
This is a cross country Marathon and one of the toughest in the country. I will be running with Paul, he will be holding me back of course because he's so slow. However, I'm hoping he will do it in under 5 hours. I could do it much quicker of course.
Please click here to donate..
in aid of Last Chance.
29 October 2016
Summer Raffle
The draw has taken place for the Summer raffle and the winners are listed below. Thank you to everyone who took part, the charity is most grateful for all your support.
1st Prize Mrs Maidstone - Dover 2nd Prize Mrs Smith - Welling 3rd Prize N.Gill - Guernsey
24 October 2016