Current News
Half price sale
We are holding our legendary half price sale on Saturday 30th June. Please come along to our charity shop grab yourself a bargain and support our charity. The shop is open from Tuesday to Saturday 9.00-4.00. Located: 213 Southborough Lane, Bromley, Kent,
20 June 2018

New Romney Re-Opens Saturday 16th June!
Our fantastic news is we are now in a position to re-open our New Romney Centre following a period of quarantine. New Romney centre will be open as usual 10am-3pm everyday apart from Mondays when we are closed to the public. Please visit our kennel and cattery pages to view the lovely dogs & cats available at both Centres and come along and meet them, they are all gorgeous and looking for loving homes.
13 June 2018

Volunteer Drivers urgently required
We urgently need volunteers to drive our Sprinter van, especially keen to find kind volunteers who would make the life saving journeys to a Welsh Pound. Please contact our Edenbridge office for more information or use the contact form to email us. Thank you Last Chance team
29 May 2018

Well done Georgie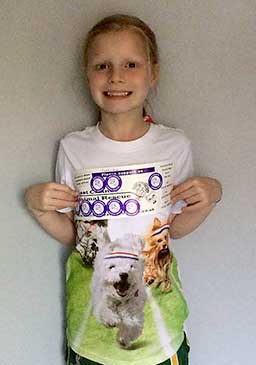 Many thanks to young Georgie who brilliantly ran 5 k for the animals of Last Chance and amazingly raised over £265! Well done Georgie - that was a wonderfully kind thing to do and will help us rescue more needy animals.
29 May 2018
Temporary closure Tomorrow
Edenbridge will be temporarily closed on Wednesday 30/5/2018 at 12noon re-opening Thursday 31/5/2018- sorry for any inconvenience.
29 May 2018

Jonathan & Sally Wedding
Supporters Sally & Jonathon have decided to kindly ask guests at their wedding to donate to Last Chance rather than buy wedding gifts for the happy couple! What a wonderfully kind thing to do and we thank them very much.
Here is a link to the site
if you feel you would like to donate too.
16 April 2018
Pet strollers on eBay
Looking for a Stroller for your pet, we have two listed on ebay please click the link – happy bidding and thank you for supporting Last Chance.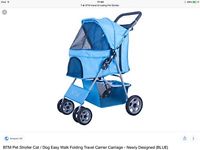 BTM Pet Stroller Buggy for S-M Pets. Blue. New. Boxed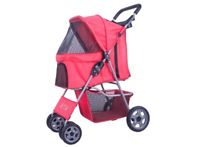 BTM Pet Stroller Buggy for S-M Pets. Pink. New. Boxed.
11 April 2018
Charity Shop, Bromley
Please note that the Last Chance Charity shop will be closed from Tuesday 17th April until Friday 20th April. It will open again on Saturday 21st April. Sorry for any inconvenience and thank you for your much appreciated support
4 April 2018

We would love your support
In memory of our wonderful Steve, who lost his 6 month battle with cancer on 26th Feb 2018, he was 45yrs old. Right up until the end he fought with every fibre of his being, believing that he would return to the strong, fit guy he always was. His passion for outdoors was evident in his love for rugby, dog agility and Airsoft. He also loved badminton and table top strategic gaming. Two years ago, Mist, an eight week old red border collie entered his life and immediately they became inseparable. Adoring each other, as Mist accompanied Steve to work each day. In his honour we are raising funds that will be split evenly between MacMillan Cancer Care and Last Chance Animal Rescue, Kent, two great charities close to Steve's heart. Please help us by donating on his page. Thank you.
Click here to donate
2 April 2018
New Romney Centre
The cattery section of the New Romney Centre is re-opening. Our staff will be available to help every Thursday, Friday, Saturday and Sundays 11am-2pm. If you would like to visit the cats please call 01797 366620 to make an appointment or email us.
29 March 2018

Notification of Temporary closure at New Romney Centre
With regret we have to inform you that we will be unable to accept dogs into our New Romney Centre for the period January 2018-April 2018. During this period the adoption of dogs from the New Romney Centre will also cease. A case of Distemper has been identified therefore necessitating this period of quarantine to avoid any possible spread of infection. The affected dog is receiving full medical care and we are hoping for a speedy recovery. The dog in question was accepted into Last Chance New Romney from a member of the public at the end of December. We were made aware the dog had originated from a home situation in Romania but had been legally brought into the UK by the then owner along with all necessary paperwork, up to date vaccination certificate and pet passport. Based on the evidence of this paperwork and health certification being in order, combined with the dog being of good temperament and at that time in apparent good health, we had no reason to be concerned about taking this dog into our care for re-homing. We were therefore devastated when the dog became unwell and was diagnosed with Distemper – totally destroying our faith in the validity of the Pet Passport system supposedly enforced to regulate and ensure the health status of animals entering the UK. A matter we will be investigating further for the protection of all pet dogs in this country. Since December 2016 Last Chance has, on a very few occasions, accepted desperately needy dogs (fully health checked, vaccinated, Pet Passport etc), from Europe and it has been extremely rewarding to be able to offer these poor souls a life-line. Now being aware that the validity of the protocol surrounding Pet Passports, vaccination certificates etc leaves a great deal to be desired sadly Last Chance will no longer be willing or able to help any animal originating from outside the UK. Our Centre at Edenbridge has not been affected in any way by this situation and continues to function as normal. We thank you for your support and patience during this unprecedented period. The trustees
27 January 2018

In Tunbridge Wells Common on Christmas Eve?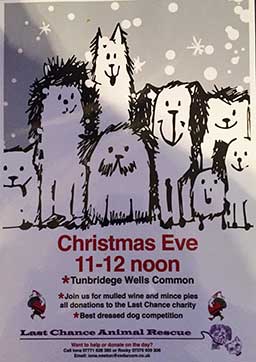 Drop in to this fundraising event for Last Chance.
19 December 2017
Paddockwood Fundraising and Photoshoot event - Saturday 18th November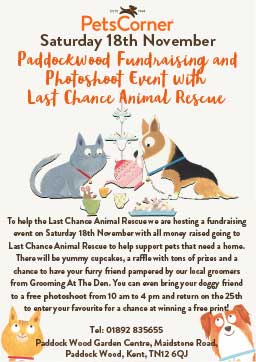 To help the Last Chance Animal Rescue, Pets Corner in Paddock Wood are hosting a fundraising event on Saturday 18th November with all money raised going to Last Chance Animal Rescue to help support pets that need a home. There will be yummy cupcakes, a rae with tons of prizes and a chance to have your furry friend pampered by our local groomers from Grooming At The Den. You can even bring your doggy friend to a free photoshoot from 10 am to 4 pm and return on the 25th to enter your favourite for a chance at winning a free print!
Click here
to download the poster...
Find the event on Facebook.....
8 November 2017
Remember, Remember- 5th November!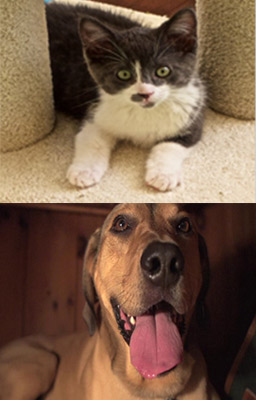 It's that time of year again and sadly fireworks are not just confined to Nov.5th! So it can be really difficult to prepare and keep your pets safe but here are a few tips they may help. Obviously keeping your dogs and cats in after dark is no.1 (unless they are completely ok with fireworks) so an early walk is advisable, but other tips include, keeping all doors and windows closed, curtains drawn, TV/radio on. Treats to distract them and if they have a special spot in the house they treat as their den make it extra snug with blankets to cover the area and keep them feeling secure. Never scold them for showing signs of fear this will only distress them more. Try to reassure them, but we all know this is not always easy- good luck and be safe.
31 October 2017
Raffle Winners 2017
Thank you everyone who kindly supported our Summer Raffle the winners are: 1st J.Eaton - Kent 2nd C.Roadnight - Sussex 3rd R.Farley - Kent Congratulations to the winners!
30 October 2017

Charity Doga Class - that's Yoga with dogs!
Yes, you read it correctly yoga with dogs, what could be more fun! Pippas' Yoga has teamed up with Barkers of Sevenoaks to create a fundraising Yoga class with a difference. Bring your family and four legged, furry friends to Yoga and enjoy an afternoon of Updogs, Downdogs, laughter and treats for everyone. Saturday 11th November, Sevenoaks.
Click for more information....

24 October 2017
Robert Leech Estate Agents pledges 5% of their commission to Last Chance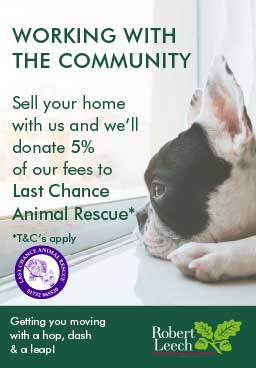 We are delighted to announce that Robert Leech Estate Agents are pledging 5% of their commission from any successful sale generated from new business signed up between now and the end of the year to Last Chance Animal Rescue Centre. So if you are thinking of selling your house in the near future please consider Robert Leech and help raise money for Last Chance.
Click
here
or on the image for the full poster.
25 September 2017
Kitten Food needed
Due to a big increase in the number of pregnant cats and nursing mums we have rescued we desperately need Kitten Food! If you could spare some wet or dry kitten food or could donate any funds to help us feed our growing family of Rescued Kitty's please let us know. All donations welcome Thank you
9 September 2017

Half price Sale!
Our charity shop in Bromley is holding a flash half price sale this Saturday 2nd September, please come along, grab a bargain and support Last Chance.
28 August 2017

We need your old stamps and foreign currency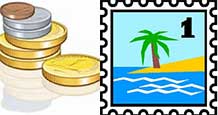 If you have either surplus after your holidays could you donate them to us and help us save unwanted, homeless and abused dogs and cats?
Please drop off or post to either of our Centres.
Hartfield Road, Edenbridge, TN8 5NH
Ashford Road, New Romney, TN28 8TH
Thank you
9 August 2017