Current News
Our charity shop, Bromley
Our charity shop is holding a half price sale on Saturday 13th April and a kind supporter has donated Elemis, Molton Brown and Liz Earle products that Marion, one of our artistic volunteers, has made up into 2 hampers. Raffle tickets will be going on sale on Friday 12th April. It is our Spring/Summer pamper hamper raffle. The draw will be on Saturday 25th May. Please pop in and have a browse at the shop and why not buy a strip of raffle tickets too? All profits help the animals we rescue, tickets are only £1 per strip. Best of luck.
10 April 2019
Jo's London Marathon is getting closer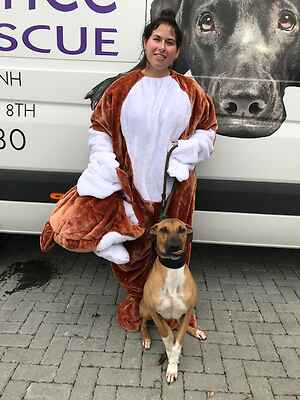 24 February 2019
Support Zoe- she's running for Last Chance
Please support animal lover Zoe who is running the Paddock Wood Half Marathon on the 7th April this year to help raise funds for Last Chance. click the link to go direct to her justgiving page
21 February 2019
Have a storyabout your Last Chance dog you can share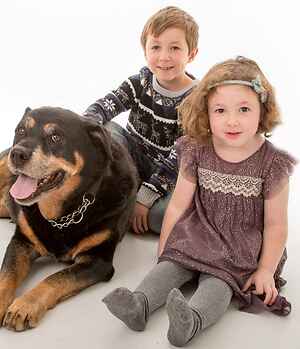 Have you rehomed a dog from Last Chance and have a great story about the dog or Last Chance that you could send to Dogs Today? As you know we work tirelessly for the dogs we rescue and would love a bit of a promotion. Dogs Today are looking for stories about deserving rescues, which tells readers about their work, features dogs that need homes or have been rescued and any appeals for help. Please send them your story and why we are a worthy Rescue to be featured, along with a photo (at least 1MB) of you with your dog to karen@petsubjects.co.uk
Thanks
28 January 2019
Hamper Raffle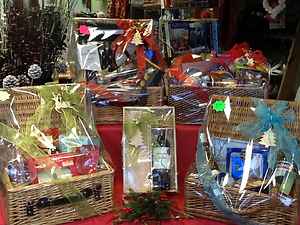 These fab hampers are being raffeld at our Bromley Charity Shop for just £1 per strip! Please support us, funds help fill a tummy & keep our rescued animals warm & cosy this winter. We hope you are lucky. Draw takes place Sat. 22nd Dec.
2 December 2018
How brave is this? Bungee Jump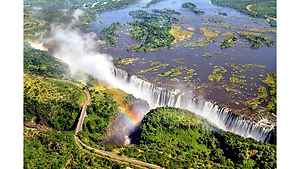 Steve, a crazy supporter of ours is bungee jumping over the Victoria Falls, Zimbabwa to raise funds for the dogs of Last Chance! How's that for daring and kindness. Please could you spare some cash to sponsor him, it is really easy to do just click here and donate. Thanks everyone and best of luck Steve, from us all at LC.
30 November 2018
Thank you
Thank you so much to all who donated items/supported and/or helped at our recent Fund Raising Event at New Romney. We raised an amazing £1,600 thanks to your generosity.
17 November 2018
Xmas Sale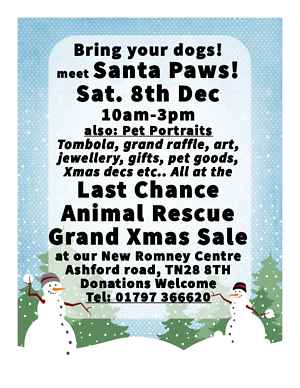 We are holding an indoor one day Xmas sale at our New Romney Centre. There are lots of goods to buy at great prices, they include art, jewellery, Xmas decorations, pet goods, books, bric-a-brac etc. We also have a tombola, raffle, mince pies & mulled wine plus an opportunity for you to bring your dog for a brilliant photo with Santa Paws & a gift for your doggie!
If you able to help by donating any items such raffle prize,unwanted gifts, jewellery, paintings, etc.. we would be really happy to receive them or if you could bake a cake or mince pies etc.. we would equally be most grateful. It will all help us raise funds to fill an empty tummy and keep all the dogs and cats we rescue warm and cosy this winter. Thanks and hope to see you there!
ps. If you could download and display the poster it would be really helpful.
17 November 2018
Raffle Winners
Thank you to everyone who took part in our annual raffle, we really appreciate your support. Here are the lucky winners
1ST- Miss Jones – St Marys Bay, Kent
2ND – O. Alexander – New Romney, Kent
3RD – Mrs Smith – West Malling, Kent
21 October 2018
Any Spare Change!

Last Chance are still collecting all foreign and out of circulation money (notes and coins). So if anyone has any left after their summer holidays we would love it! Edenbridge & New Romney both accepting any amounts you may have. Many thanks
27 September 2018
Home Checkers urgently needed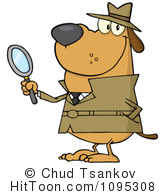 We urgently need home checkers and especially in New Romney and surrounding areas. If you could spare some time to help us by checking homes for our lovely dogs and cats please use the contact form to get in touch with us- Thanks!
21 September 2018
Join the Pink Party!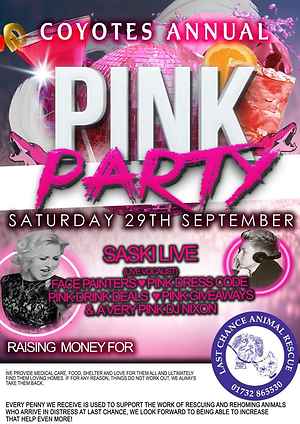 Fancy some fun! Join Misty at the Ship on Saturday 29th Sept. 347 High street, Rochester, ME1 1DA who is raising funds for our charity- cheers Misty
13 September 2018
Alex is going on the wagon!
He has set up the JustGiving page. and has shared it on his facebook page. All money he saves from not drinking will be donated to Last Chance, could you support us further by encouraging him with a donation? Please click on the link- cheers! Oh- sorry should say Thank You instead!
Update: Thanks everyone, Alex raised £369.46!! Well done Alex!!

12 September 2018
Half Price Sale
It is our big half price sale at the charity shop in Bromley, please come along, grab a bargain and help needy animals at the same time. Sat. 15th Sept.
Also please note the shop will be closed for the first week in Oct. and will open again on Tuesday 9th Oct.
10 September 2018
Clothes4Charity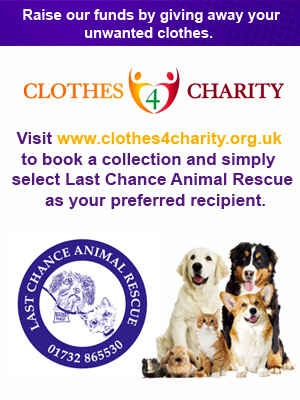 Have you any unwanted clothes you would like to get rid of? If so how about this as idea- use clothes4charity who will take the clothes and donate money to Last Chance. It couldn't be easier just click here and select partner charities and then request Last Chance Animal Rescue as the recipient of the money for your old clothes.
Thank you
7 September 2018